A "Slick" Solution for Video Streaming of Legislative Sessions
In an age where governmental transparency is important and providing the public with up-to-date legislative information is a critical part of many legislatures' day-to-day operations, the broadcast of session video and vote information has become a perfect means for providing that transparency.
Providing video and vote information via the Internet is becoming increasingly more commonplace at all levels of government - from local to state to federal. It is a perfect way to provide the people at home with a connection to their elected representatives, and the forum in which the laws are made.
However, as our customers know better than anyone, legislative session days can be long and a lot can happen over the course of one such day. This presents a unique challenge that the legislature must overcome in the area of providing this information to the public. After all, what citizen has the patience or time to sit in front of their device, streaming a live or recorded 12-hour session day, in hopes that they will come across the debate or the vote on the issue that interests them?
This is where International Roll-Call and our partner, Sliq Media Technologies, comes in.
Sliq has been in the business of hosting and streaming web video almost as long as there has been video over the web. After 15 years, they have a global presence in the industry, serving not only state legislatures like North Dakota but also national parliaments such as the Canadian government and the UK House of Lords among many others.
Sliq offers a range of options when it comes to storing and streaming video footage of session meetings. These can be stored locally if it is the customer's preference to take that responsibility on, or they can be stored by Sliq, out in the cloud, where they can be fully managed, backed up, and streamed for viewing over the Internet.
The way that Sliq and International Roll-Call work together is that we provide Sliq with trigger events and the voting information, which can be imported from the display output into their system, or simply video taken of the display board(s) to capture the information. Each state runs their camera system and video capture specific to their needs, of course, but IRC provides event stamps to Sliq which they then use to index the captured video and index it according to the calendar item and related information.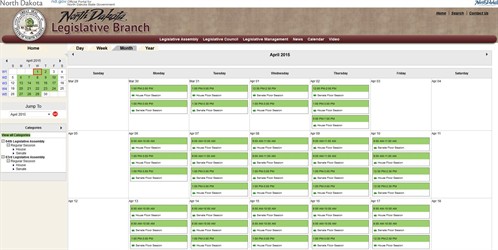 (Screen shot of Sliq Agenda screen, showing calendar of meetings in the North Dakota Legislature and menu on the left allowing the user to choose session years, regular and special sessions, House and Senate.)
This is further streamlined by a truly "slick" interface in which the Internet user (viewer) may search for an item number, keyword, sponsor name, or other criteria attached to an item, and be presented with a number of choices that they can view. This process greatly lessens the amount of time a citizen would need to invest in keeping abreast of the current issues being tackled by the legislature that interest them. In this fast-moving world of technology that seems to be only moving faster, time and speed are critical. The Sliq/International Roll-Call partnership delivers on both points, providing this level of functionality during live streaming broadcasts as well as archived footage, all streamed over Sliq's robust connections for a quick and lossless delivery of content.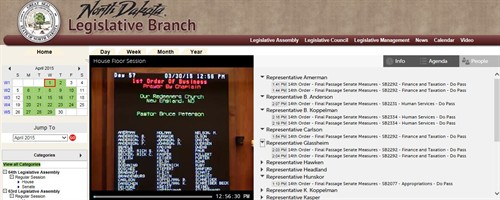 (Screen shot of archived video, indexed by date/time, bill item, and members who spoke on the item.)
The IRC/Sliq solution can work with an existing camera system or one that IRC installs, as we are proficient in both automated camera system and sound system installations. Because of our successful integration with Sliq's video indexing protocols on numerous sites, the infrastructure is already in place to build a comprehensive video indexing, storage, and streaming solution for any legislature in need of it. Please don't hesitate to contact International Roll-Call or Sliq Media Technologies to find out more information or schedule an online demonstration and see what we can offer to put the power of connection to the public sphere in your hands today.
Please contact either of the following for more information:
David A. Ward, Jr., International Roll-Call: dawjr@roll-call.com, 804-730-9600
Nic Cote, Sliq Media Technologies: nic@sliq.com, 514-846-0322